Do you think you have what it takes to please a dominant woman?
My domination phone sex number is waiting for you to call me and prove yourself.
Don't be a pussy, sitting there with your little fantasies as you surf the net for porn.
You want to serve a dominatrix… here's your chance to do more than just dream alone.
I'll take your fantasies and make them come alive in ways you've wished for.

Domination Phone Sex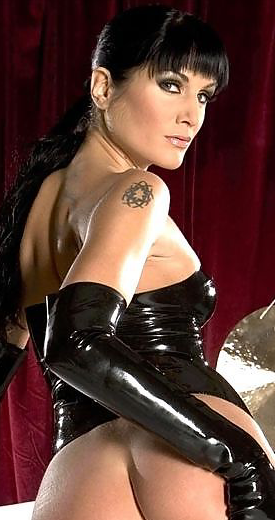 (By: Domina Cinara) I've been involved with BDSM since I was a teenager… and was first employed as a dominatrix before I was able to legally drink. Fetish sex and female domination have been a part of my life since I was old enough to enjoy them… and since then, I've made it a point to enjoy myself very thoroughly. I worked as a dominatrix professionally while in college in NYC, and afterwards while living in San Francisco. My participation in domination phone sex began during grad school, as an outlet for my fetish interests when my studies limited time for more hands-on femdom sessions.
Those of you who have followed me over the years know that female domination isn't a hobby or job for me… it's not a character I assume, or for that matter simply the way I like to have sex. It really is my way of life… with things like fetish play and domination sex being outlets for the impulses that guide me… impulses born of my very nature as a dominant woman.
Domination phone sex is yet another way to explore my sexuality and indulge my erotic fantasies… including some of my absolute darkest dreams. That's one of the things I like most about it… that and the wide variety of male and female pets it enables me to come into contact with. Since domination phone sex is enjoyed primarily through the mind, one can conjure some truly extreme femdom visions and make them come to life through a shared dream. Things that you could not realistically do in real life, can be played with to no end during fetish phone sex.
That's not to say that physical aspects of a full femdom session cannot be played out to some degree. Cock and ball torture (CBT) and strapon training can be very easily done through a phone sex call under the direction of the dominatrix. Add to it a webcam and you have the next best thing to being there.
But of course it's not only more extreme kinds of femdom and fetish play that can be explored during domination phone sex. It's always fun to slowly wrap a man around your fingers with nothing more than the power of your voice and the hypnotic effect a female can have on a man. Sensual domination produces a very erotic and intimate environment in which the dominatrix enslaves the man through the very femininity that all men are vulnerable to. Tease and denial can be a very effective tool in the art of sensual domination… as the dominatrix builds up such need her male victim, only to deny him just short of the orgasm he feels he will die if he does not have. Manipulation like this can make sensual domination a very quick path to conquest indeed.
Domination phone sex holds myriad possibilities for enjoyment… call me and we'll explore some together.


Domina Cinara
Domination Phone Sex
1-877-274-8292

You think your dreams of being under the control of a strong female are silly?
Something shameful… something a man should be embarrassed by? How very stupid.
Obviously if there are dominant women who seek to make men their slaves…
It stands to reason there are men who are naturally meant to be slave to them.
Female domination is something glorious and liberating to both sexes.

Call me for a Fetish Phone Sex session…
And I'll show you just how good it can feel to serve a dominatrix as her pet.