I love to play very nasty and dirty during tease and denial games…
Leading a guy on as I talk all sexy and sweet to him…
Then, when I've got him cock stroking so good… I close my fist around him tight.
Laughing as I keep teasing him so close to orgasm, just to pull back at the very edge.
Giving him such a nasty, painful set of blue balls that he will do anything I desire.
Which is exactly the way I want my men to be.

Tease and Denial Phone Sex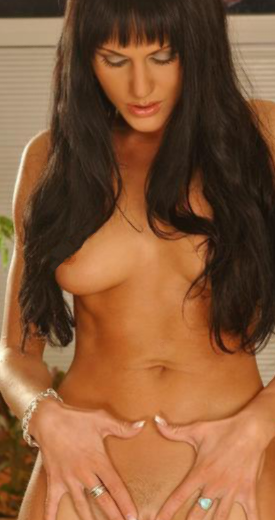 (By: Domina Cinara) Considering I'm very open about what a sexy but truly devious fetish dominatrix I can be, you'd think you boys would know that tease and denial phone sex with me, isn't going to be focused on getting you off when you want it… oh no.
Being that I'm a masturbatrix that gets off on things like strict cock control and sexual sadism… ask yourself this question –
Why should I let you cum?
It's so much more fun to tease your cock and listen to you squirm as you beg me for an orgasm.
I fucking love it… knowing you're so helpless and I've got total control over you. Thoughts like that make me so damn hot. It's the kind of thing I get off on. My needy little slave boy, stroking your cock and begging me to cum. Waiting on my every word, hoping for release as I keep teasing you to the edge over and over. Forced to do whatever I say… stroking and stopping at my whim… all because you know I'm the best damn tease and denial phone sex there is… and the hottest fucking dominatrix you'll ever talk to.
Yeah, you're damn right I am… cocky and arrogant because I can be… because I am that good.
Men are naturally weak around me… and I love to cock tease them… I love to sexually manipulate them into being my desperate slaves. Having a dominant woman take control of you, turns you on… is it so surprising that I would be the kind of dominant woman that gets turned on from controlling men?
I don't do fetish phone sex just to let my slave boys have whatever they want… I do it to take what I want from men who have the same fetish tastes as me… men who love to suffer for my pleasure as much as I love hearing them suffer for me.
This is called tease and denial phone sex for a reason, and I do it because I love to sexually torture men. Because the thought of you having blue balls does more than make me smile, it turns me on.
I'm a sadist and I get off on making men suffer for my pleasure… and if you want the pleasure of an orgasm at the end of our tease and denial phone sex call… you're going to suffer for me plenty… and I'm going to love every delicious second of it… just as you will too.
This is a whole other form of cock control… the kind that has a nasty-good cruel edge to it, mixed perfectly with the sort of sexy cock teasing you just can't resist.
Something so very bad yet so damn good you don't want it to stop, even as you beg me for release.


Domina Cinara
Tease and Denial Phone Sex
1-877-274-8292

Only a pathetic fool would waste a perfectly good erection cock stroking by himself.
My fetish phone sex number is right here, waiting for you to call it.
Let a talented masturbatrix give you an orgasm worth having.
Don't just dump it all over your belly like you do alone every night.

Give me total control of your cock… or I'll give you a raging pair of blue balls.
Tease and Denial Phone Sex – 1-877-274-8292 – Domina Cinara