To me it seems obvious why I man would have a glove fetish.
Imagine what it would feel like to have a woman with a pair of long sexy gloves on…
Take hold of your cock and start slowly stroking it all the way up to orgasm.

Glove Fetish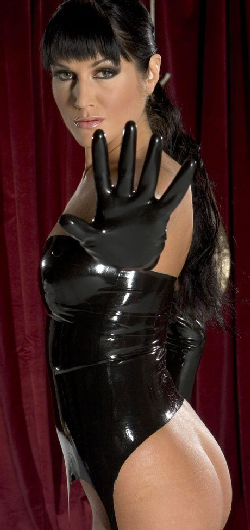 (By: Domina Cinara) I love doing glove fetish phone sex, because I love to wear all kinds of long sexy gloves, and I'm not just saying that. Those of you who have been following my femdom websites over the years have often heard me talk about my glove fetish. They are such a regular part of what I wear, both during female domination sessions and when just going out, that they're almost always present in the fetish stories I write about my sexual experiences. Even when taking fetish phone sex calls at home you will often catch me with a pair on… usually using them to stroke the strapon I'm probably wearing too ~grinz~.
They are a favored piece of my wardrobe… something I wear because I like how they look and feel on me. And by that, I don't mean just the obvious – that long gloves look hot and sexy on me, and that wearing them feeds my own glove fetish. I also mean that when I have a pair of long leather gloves on I feel all the more powerful… hot and sexy, but also armed and dangerous.
Material is very important when it comes to what gloves to wear for what situation.
Long satin gloves have a very sexy look and feel to them. They're perfect for foreplay with either sex and excellent to softly tease a bound body with. A cock can't help but jump and throb at the slightest touch of a long satin glove… and stroking will make it erupt in no time. I sometimes make my glove fetish phone sex callers go out and buy a pair they can wear during our sessions just so they can imagine my hands on their cock and balls (though usually those I talk to who have a glove fetish already have a couple pairs handy ~winks~). Girls react wonderfully to them too… the wet from a slave girl's pussy will make a mess out of the satin very quickly if you play with her clit with one hand, while pushing the fingers of the other inside of her. Tits feel really fantastic with them on too, and nipples get so hard and swollen to their touch. You can tease a man's balls very nicely with satin gloves, that and the soft spot under them… and there is just something about how the ass of a bound male slave feels when caressed by satin. Sensual domination is just too easy with these gloves on.
Long latex gloves I like to wear for heavy fetish sessions… when I have full latex outfits on. They're definitely a commitment to wear and take care of, but nothing looks more like fetish sex than long latex gloves. When it comes to femdom sessions, what I really like using them for is fisting… especially anal fisting. Walking up to a bound male slave that's bent over with his legs spread and tied at the ankles… slowly lubing the glove all the way up to the elbow, making sure he can see me doing it and how far up I'm preparing the glove for… then moving behind him… pulling his cheeks apart… slowly pushing a finger or two in… stretching that asshole… leaning in to open him more… working the hand to the knuckles… then forcing it forward til it *pops* in to the wrist… and then… ~grinz~. Yeah, nothing is better for violating a man's ass than long latex gloves… except maybe a big, thick strapon cock. But there is definitely something to be said for driving your fist up someone's butt.
But I like to wear long leather gloves probably most of all. They are the perfect compliment to most any dominatrix outfit. Sexy but also threatening, emphasizing the strength and power of the dominant woman. I own quite a number of different pairs, ranging from wrist to shoulder length, all custom made since that's really the best way to go with leather, and too many types to say here without it looking like a running list. One of my favorites though, is this one above the elbow pair that has metal sewn into the reinforced knuckles. When I have those on, my already high confidence skyrockets and the sadism in me feels ready to rage out all over the world. I look like one hot bitch you definitely don't want to fuck with when I have those on. And if CBT and ballbusting is on the agenda… my victim is really in for it.
Those of you who have a glove fetish like me I well understand and enjoy. Call me for a fetish phone sex session and we can get deep into something we both love. Those who would like to buy a special pair of fetish gloves for me are of course welcome to bring it up… I'd love to see pictures of what you have in mind and will certainly wear them for you.


Domina Cinara
Glove Fetish Phone Sex
1-877-274-8292

My puppy slave has a serious glove fetish now…
Due to all of the nasty things I have done to her body while wearing them.
Her pussy gets wet just from seeing a pair in my dresser…
And she can tell what I have planned for her by what type of glove I put on.