Some girls can cum from a good ass licking… or get very close to it.
Rim jobs get me very hot and wet… facesitting and smothering does even more.
It's that forced femdom element that pushes things over the edge for me.
Power is incredibly arousing and stimulating to dominant women.

Worship My Ass
(By: Domina Cinara) …continuing from Part II – My Irresistible Ass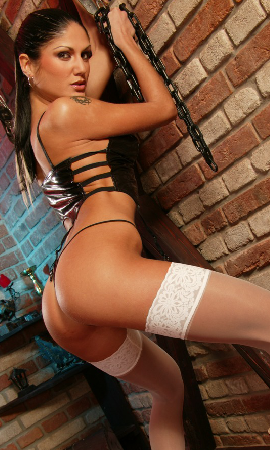 I left off telling you about how things like ass licking are rewards that must be earned. I don't just let anyone kneel down behind me and lick my tight asshole.
I have many femdom sessions, both face-to-face and ass worship phone sex calls, where men (and even lesbian women) have acted out the complex ass fetish rituals practiced in honor of my sweet little bum. And when they describe what it would be like to touch me, they speak of how they would worship my ass with such attention to detail… licking and kissing so nice… with special attention to that most wonderful, tight spot.
Ass Worship is something to be taken very seriously, as those enlightened enough to realize already know. And even though ass worship phone sex is limited in how far one can demonstrate their devotion physically, I give any discussion of my body and its beauty my complete attention. I love to hear ever single word… and the more wonderful the praise, the greater the potential rewards for the speaker ~winks~.
Closing our eyes together as you tell me of your love for my sexy behind… imagining what you would do to win my favor as our ass fetish fantasy comes alive in our minds through our words. How incredible it would be if I suddenly commanded you closer… my sexy voice telling you to worship my ass just as I know you need to… licking and kissing with your tongue and mouth, while stroking your cock with your hands… stroking because I want you to.
I am called empress, goddess, and divine by my devoted slaves, and their demonstrations of ass worship well fit how true these titles are. I love hearing men sing the praises of my behind, while their cocks get harder with every word… ending with them begging to stroke and cum to the thought of only me. Sometimes I even let my most faithful devotees orgasm while they press their heads to the ground at my sexy feet, my beautiful bottom hovering just inches away from them. The best get to do it while licking my ass clean.
My perfect ass is just one more of the blessings I have been given that make it so easy for me to get whatever I want in life… and if what I wanted was you, you'd fall into my complete control whenever I pleased. Fetish sex is a clear path to sensual domination, as any dominant woman knows. Doubt it… call me and see.
Are you ready to worship my ass… my beautiful female body… all that is the greatness that is Domina Cinara ~grinz~?
Your ass fetish lessons are ready to begin. During your first ass worship phone sex session we'll start with my feet, and the sexy high heels I always wear… then we'll slowly move up my amazingly long legs. I'll stop you there if you're not ready to proceed – you'll have to earn every inch as you crawl all the way up to my thighs and hips, finally close to that beautiful ass you so badly need to worship. And then you will kneel there, basking in its perfection… perhaps your lips hovering not too far, if you've proven yourself worthy of breathing the air that surrounds it. Prove yourself in the extreme and you may be allowed the chance to kiss my bottom, to worship my ass with your tongue… yes, even be blessed with the rare opportunity to perform some deep ass licking as the ultimate display of your worship.
(I'd mention the even more rare possibility of a facesitting session… but I don't want to stop your heart from excitement over the idea).
And I hope you like exhibitionism… once you've learned the basics of this fetish through our ass worship phone sex sessions, our fantasies will quickly move into more daring displays of your slavery. I'll make your devotion a matter of public display. Just think of all the jealous eyes that would be upon you as they see you obediently kneel behind me… a slave to my perfect rear end and sexy long legs.
Mmmhhhmmm… the thought of having you on a leash, out in public with me just sent a thrill through my body. I know I said I shouldn't mention facesitting to you yet, as the thought of it will only drive you wild… but I can't resist. Imagine if I slid my short leather skirt up, exposing my bare bottom to you right there in front of everyone. Then think of how it would feel if I backed that incredible female rear right up on top of you as you knelt there… leash tight around your neck, chain pulled taut between my legs… my perfect ass smothering you, forcing you into some very deep ass licking in the hope I'd allow you to breathe.
Forced face sitting… female domination has never tasted so sweet ~grinz~.
And I love all of this… ass worship isn't simply a fetish I enjoy, it's my right and your obligation.


Domina Cinara
Ass Worship Phone Sex
1-877-274-8292

I love the thought of a man being obsessed with my ass…
Its perfect rounded curves haunting him, making his cock hard so easily.
And I love hearing about this fixation during ass worship phone sex calls.
My devoted fetish slaves telling me how beautiful my tight bottom is…
And me being such a nasty ass tease as I torment them with thoughts of it.

Call me for some fetish phone sex and we can talk all about how you'd worship my ass.